Save the date for the conference Party starting at 20:00 on Thursday night at Fabrica Moritz Brewery.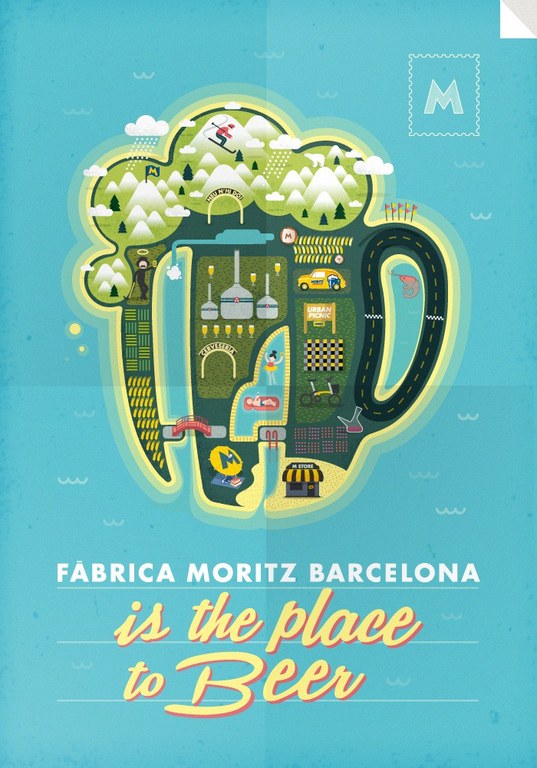 La Sala del 39 is an unique place to live an unrepeteable experience located at Fàbrica Moritz Barcelona. A centennial space full of history in the basement of the Fàbrica Moritz, which housed the former fermentation cellars in the 19th century. 
The Fàbrica Moritz Barcelona is a theme park for adults, even better if they are beer lovers! Located on the corner of Ronda Sant Antoni and Casanova Street, it is much more than a microbrewery or a gastronomic space; it is the Moritz flagship.
Here you will find a microbrewery that can be considered the Rolls Royce of the European microbreweries, where they produce the unpasteurized fresh Moritz beer; it can be consumed on the ground floor of the brewery, along with some of the suggestions from our gastronomic director and Michelin-starred chef, Jordi Vilà.
It's easily accessible via Metro (L1, L2 Universitat), and a variety of Buses. It's at 10 minutes walking distance from Plaça Catalunya.

The dinner menu follows:
SNACKS GASTRONÒMICS (V)

GASTRONOMIC SNACKS

LLAMINETS AMB BASTONETS DE PA DE BACÓ

COCKTAIL SAUSAGES WITH BACON BREAD STICKS

LIONESES DE FORMATGE (V)

CHOUX PASTRY FILLED WITH CHEESE

· · ·

FOLLES DE:

FRESH VEGETABLE LEAVES TOPPED WITH:

HUMMUS (V)

HUMMUS

ESCALIVADA (V)

GRILLED AUBERGINE AND RED PEPPER

ESCABETX DE PASTANAGA I GINGEBRE (V)

CARROT AND GINGER PICKLE

· · ·

PERNIL IBÈRIC AMB PA DE COCA AMB TOMÀQUET

IBÉRICO HAM ON FLATBREAD WITH TOMATO

TORRADA AMB TÀRTAR DE SALMÓ

SALMON TARTAR ON TOAST 

· · ·

CROQUETA DE PERNIL IBÈRIC / CROQUETA ESPINACS (v)

IBÉRICO HAM CROQUETTE / SPINACH CROQUETTE

BUNYOLS DE BACALLÀ

SALT-COD FRITTERS 

FLAMMKUCHEN GRATINADA / FLAMMKUCHEN SENSE BACÓ (V)

FLAMMKUCHEN AU GRATIN

· · ·

BUFFET DE: RISOTTO D´ESPÀRRECS VERDS, PARMESÀ I ALFÀBREGA (V)

BUFFET OF: RISOTTO of green asparagus, parmesan and basil

· · ·

BROQUETA DE POLLASTRE YAKITORI

BROCHETTE OF YAKITORI CHICKEN

BROQUETA DE PRESA IBÈRICA, ALBERGÍNIA I CHUTNEY DE PEBROT

Brochette of Ibérico pork, aubergine and bell pepper chutney

MINI BURGER DE VACA VELLA AMB "FOIE"

Mini beef burger with foie gras

BROQUETA DE VERDURES AMB SALSA ROMESCO (V)

GRILLED VEGETABLES BROCHETTE WITH ROMESCO SAUCE

· · ·

BOL DE FRUITA FRESCA (V)

Fresh fruit platter

"BROWNIE" AMB NOUS (V)

WALNUT BROWNIE

"CHEESECAKE"A LA TASSA (V)

Cheesecake cup

BEGUDA

DRINKS

CERVESES MORITZ

MORITZ BEERS

REFRESCS, AIGÜES MINERALS

SOFT DRINKS, MINERAL WATER

PARDAS RUPESTRIS 2014

DO PENEDÈS - XAREL·LO, XAREL.LO VERMELL, MALVASIA I MACABEU

WHITE WINE

EL PISPA 2014

DO MONTSANT – GARNATXA

RED WINE

CAFÈS I INFUSIONS

COFFEES AND TEAS